A break-down! Ugh! It's a situation you never want to be in. You're driving along at high speed, then your car begins to slow down...and stops right in the middle of the traffic.
A break-down on a major freeway is no laughing matter. So what do you do to get you and your passengers out of danger?
Here are some quick tips on how to avoid problems, how to react to the warning signs of a failing engine and how to get yourself to safety in what could potentially be a life threatening situation.
Prevention is Key
Prevention really is the key. Regular vehicle checkups will help your vehicle perform better and dramatically limits your risk of having a break-down. There's the essentials; such as keeping tyres inflated to the perfect level and oil coolant and washer fluids topped up. However, it is also important for you to have your vehicle regularly serviced by a knowledgeable professional. A well-functioning car is the best to way to avoid accidents, so keep an eye out for anything that might be wrong prior to making long journeys.
Be Prepared
You may find it a little embarrassing carrying a break-down kit in your glove box - but trust us, you will be glad to have the right equipment if the time comes. Especially if cars are flying past you on a busy highway. Keeping a high-visibility vest within easy reach, waterproof clothing and your phone fully charged will make sure other cars can spot you at high speed and you'll have the means to contact somebody for help.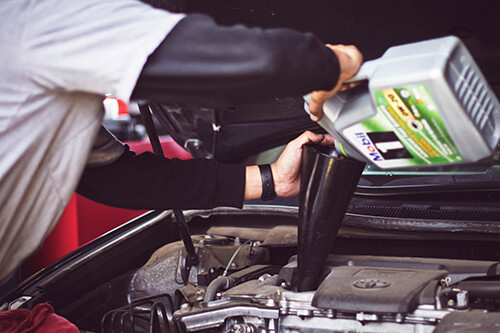 Help! My Car is Slowing Down
At the first sign of trouble, don't panic. If your car feels even slightly different, it pays to pull over at the next petrol station or safety stop to check if you have reason for concern. If the problem is pressing, or something happens suddenly like a tyre bursting, Practical Motoring suggests to remain calm and pull over to the hard shoulder of the highway, parking as far left as possible. Now put your hazard lights on and take a deep breath. 

Holler for Help
Pick up your phone and give us a holler! Our fully trained professionals have handled break-downs like this many times. Rain, hail or shine, Marshall Batteries are just a quick phone call away. Remember that there are emergency phones located along the highway if you don't have your mobile on you. The added bonus of these phones is that they tell the operator of your exact location. Too easy!
Exercise Caution
Keep in mind that you're on the side of a busy motorway. When leaving your vehicle exercise caution, and wear your high visibility vest if you were prepared enough to pack one in case of a break-down. Whenever possible leave the vehicle from the left hand side, and use the barriers to keep you separated from the traffic when walking up the highway.
Call Marshall Batteries for roadside assistance, a jump start, a new battery or even a fuel top up! 0800 228 837