It's the stuff of nightmares. You're about to leave. You get in your car. You put the key in the ignition, turn and…. R-R-R-R-R-R-R-R-R-R-R-R-R-R-R-R… or worse, silence!
So what do you do when a flat battery leaves you stranded in the middle of nowhere?
It's a stressful situation. Here are our five break down commandments to help you stay in control.
FLAT BATTERY RULE #1 THOU SHALT REMAIN CALM
This one is a much easier said than done. Stop thinking about where you have to be or what you could be doing. Don't fight with your co-pilot. Don't hit the dashboard. DEFINITELY don't rev the engine hoping it will click over. And please don't throw things at passing drivers (it's not their fault they have working batteries). Your car battery is dead. Take a few deep breaths. Accept it. Now you're ready to take action.
FLAT BATTERY RULE #2 THOU SHALT REMOVE YOURSELF FROM DANGER
We can't control where a car battery decides to stop working, but we can control where to put the car afterwards. Wherever your car has decided to stop, be it a driveway, rest stop or the middle of a highway, push it safely to where it needs to be. Find a spot out of the way of traffic but in plain sight of oncoming drivers.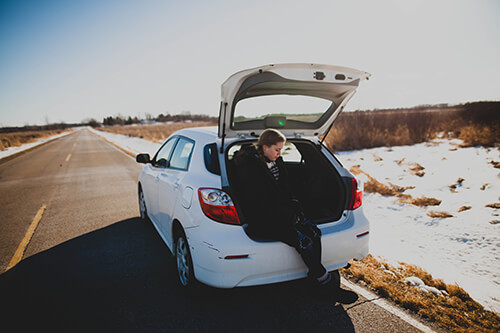 FLAT BATTERY RULE #3 THOU SHALT BE OLD SCHOOL
Manual car? Why not try the good old fashioned push-start. Turn on the ignition, put the car in second gear and keep the clutch in. Release the clutch and get your co-pilot to push the car to gain momentum - or if you're lucky enough to be on a hill, roll on down! Once the car's going release the clutch and step on the gas. Worked? Good, now keep driving to a Marshall depot to sort out your battery.
FLAT BATTERY RULE #4 THOU SHALT NOT CALL THE WRONG PEOPLE
When all else fails, ask for help. Just make sure it's from people who can actually help. Don't call a friend who's on a business trip, or that mechanic you met once at a party and haven't talked to since. Wave down a car, call a friend with jumper leads, or even better. call a service with decades of road-side rescue experience. Pick up the phone and holler for a Marshall. We are the cheapest, most convenient one to get you back on the road. That's a promise.
FLAT BATTERY RULE #5 THOUGH SHALT THINK ABOUT WHY. AND NOT DO IT AGAIN.
Sometimes it's fair that your battery decided to call it a day. Lack of proper battery maintenance, leaving your lights on, leaving your air conditioning on while the car's not running, extreme weather…. The list is endless. Think about why your battery isn't working and learn from your mistake. Remember, car batteries should be replaced every three years to be fully functional.
Also remember that we're here to help you if it happens again!
If you find yourself in a sticky situation on the roadside, call Marshall Batteries for roadside assistance, a jump start, a new battery or even a fuel top up! 0800 228 837